Plomari ... an important commerce and industrial town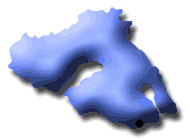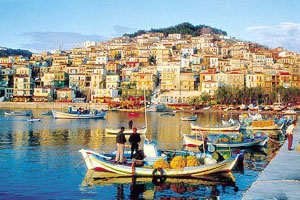 Plomari was originally named 'Potamos' (which means river) Built in the middle of the 19th century when inhabitants decided to leave the inland village of Megalochori (which is still sometimes referred to as the old Plomari) and go down to what was then known as the 'wet valley'.
Plomari is not only the second largest town on the island, the first being the capital of Mytilini, but is also known as the Ouzo capital of Lesvos. Agiasos Isidoros is a small hamlet just 1km from Plomari and where you will find the beautiful beach, the Aegean Sun and the Pebble Beach Hotels.
Plomari is built right on the edge of the Ocean and has narrow winding streets and steps leading further and further up into the amphitheatre of the numerous traditional homes built against the surrounding hills.
In the early 19th century, fires destroyed much of the original town and Plomari was re-built to become an important commerce and industrial town.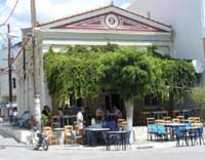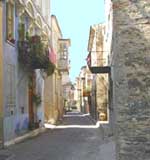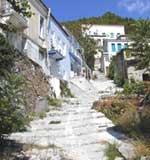 The harbour of Plomari is a wonderful place to walk around and borders the main square where you can enjoy a morning coffee ... or an ouzo !
Like many of the villages on the island, fresh vegetables and fruit are grown locally and then delivered to the inhabitants by farmers driving their pick up trucks who weigh out their produce whilst you wait. This is a great way to buy and you know at least that the freshness is guaranteed.
Accommodation in Plomari
Places of Interest
Beaches around Plomari
Ouzo Distillery
Return to Lesvos Introduction