Mytilini ... Capital City of Lesvos Island (Lesbos)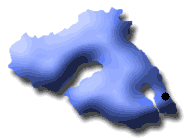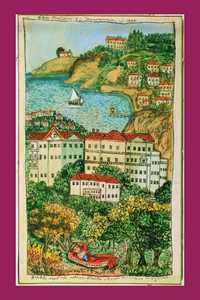 Standing on seven green hills rooted in the heart of the Aegean, spreads the Capital City of Lesvos Island, Mytilene with a history which begins in the third millennium B.C.
Contemporary Mytilene with a population of thirty thousand is built on the ruins of the ancient namesake city, the birthplace of leading intellectual personalities throughout the centuries.
The greatest lyrical poets of all times were born here, Sappho (700-600 B.C.) and Alcaeos (640-560 B.C.) as well as Pittacos one of the Seven Sages of antiquity.
The intellectual tradition continues to modern days with Odysseas Elytis (1911-1996) winner of the 1979 Nobel Prize for literature.
Not only is Mytilini the capital and commercial centre of the island but also blessed with a diverse wealth of Museums and Art Galleries all of which are worth visiting if you have the opportunity.
The castle located on the north side of Mytilini overlooking the city is one of the largest in the eastern Mediterranean. It's foundations were laid during the time of Justinian on the ruins of an even older fortification which can still be seen in sections of the walls. It has been used and rebuilt by the Romans, Byzantines, Venetians and the Turks and is now used in the summer for cultural events.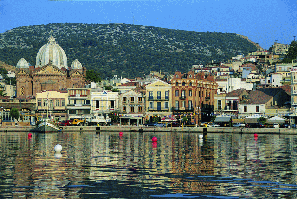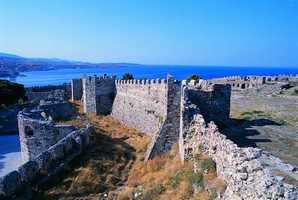 High up in the north side of town in the pine grove is the ancient theatre. It was one of the largest in Greece with room for 15,000 spectators, considered on par with the theatre at Epidavros. It was built in Hellenistic times, though by whom is not known. It was repaired by the Romans, and when Pompei visited the island he was so excited about the theatre that he ordered a similar one built in Rome.

A walk through the picturesque neighbourhoods, the Promenade and the traditional commercial street (Hermou) from the Ancient Port in Epano Skala to Kioski and Sourada will convince the visitor of the warm hospitality of the natives and he will admire the exquisite, preserved historical Mansions of various architectural styles.
The city is adorned with imposing churches, most distinguishing among them the Metropolis Cathedral with the 33m. gothic steeple built in the 17th century and the domed church of St. Therapon (1880). Of much interest is the Monastery of St. Rafael just 12km. from Mytilene nesteled in the olive groves of Karyes, Thermi.
Mytilene is the headquarters of the Ministry of the Aegean and the University of the Aegean.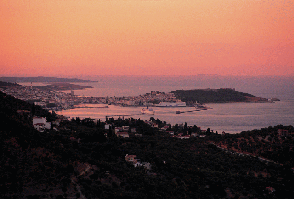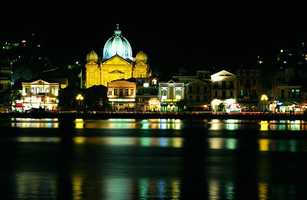 Mytilini's International Airport "Odysseas Elytis" (MJT) and its harbour connect the island with Athens, Piraeus, Thessaloniki, Volos, Kavala, Alexandroupoli and the islands of Limnos, Chios, Samos, Icaria, Kos, Rhodes, Crete, e.t.c.
Accommodation in Mytilini
Places of Interest
Ancient Sites of Mytilini
Museums of Mytilini
Statue of Liberty
Thermal Springs of Mytilini
Tzami Mosque in Mytilini
Return to Lesvos Introduction