Skala Eressos ... birthplace of poetess Sappho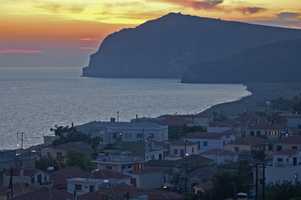 Skala Eressos is built on a valley floor and surrounded by a stunning amphitheatre of volcanic rock and mini mountains. Most property is built on the flatlands of the valley floor and very few of them afford a direct view of the sea.
The air is fresh and the waters clean, more importantly, children can play in safety here on the gently sloping sands and the beach front streets are almost void of motor vehicles. Certainly the main promenade is vehicle free.
During the summer months the lovely beach of Skala Eressos takes on a particular look, as holidaymakers from all around the world flock to enjoy their summer vacations. Fresh fish and seafood are to be relished in the numerous restaurants.
Skala Eressos, with its 3km unspoilt beach, is reknowned world wide as the birthplace of the poet and teacher, Sappho, and is particularly popular for the traveller seeking creative inspiration, and for women travellers.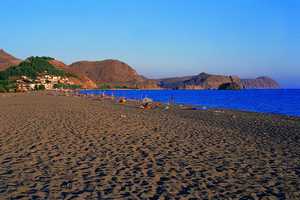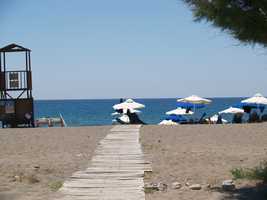 For over 50 years women from all over the world have traveled to the birth place of Sappho to enjoy a laid back and friendly atmosphere amongst the locals and other tourists making this the most popular resort for women in Europe.
There is an abundance of animal life here. The island of Lesvos is renowned throughout the world as having one of the largest visiting populations of migrating birds and is said to be a 'twitchers' paradise. In the fields surrounding the villages of Eressos and Skala Eressos, you will see wildlife galore.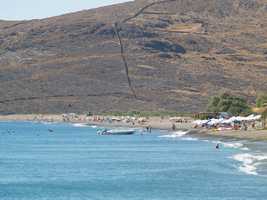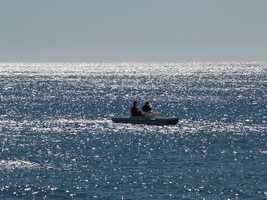 There is also the added phenomenon of the fresh water river which runs into a natural pool half way along the beach. This becomes home to hundreds of terrapins of all ages and feeding them with bread can be an entertaining pastime as their heads bob above the water. Children especially love this, but please bear in mind that these animals are wild and whilst they won't hurt you it would be easy for you to hurt them... especially by over feeding!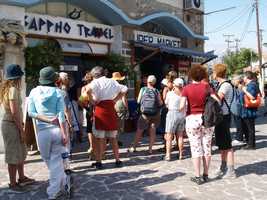 Accommodation is available throughout Skala Eressos and varies in price depending on the season you visit and the standard of facilities you require. There is something to suit every taste and budget here from room only to self catering studios and apartments as well as women only accommodation and private houses and villas.
Naturally many people who visit want a room with a sea view, but please try to remember that wherever you choose to stay in Skala Eressos, you are never very far from the sea, the beach and the many restaurants and bars which offer open beach terraces where you can sit and watch the sea and stunning sunsets to your hearts content.
Sappho Travel has two offices in Skala Eressos, and during the summertime we are open most hours of the day for our visitors.
Accommodation in Skala Eressos
APARTMENT
HOTEL
HOUSE
ROOM ONLY
STUDIO
STUDIOS & APARTMENTS
WOMEN ONLY
Places of Interest
Pithari Monastery
Eressos Village
The Petrified Forest of Lesvos - Protected Natural Monument
Sigri Village
Return to Lesvos Introduction