Petra ... and the church of Panayia Glykofilousa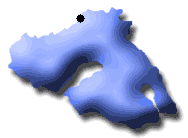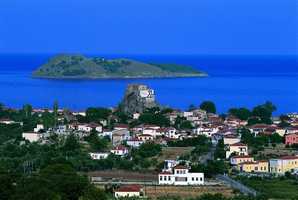 Located on the North of Lesvos just 4 km from Molyvos, Petra is overlooked by the church of Panayia Glykofilousa (Virgin Mary of the Sweet Kiss) built in 1747, which is perched on top of a rock some 30 metres high. The village takes it's name from this rock.
The village has it's own style and a charming individuality and is a very popular resort in the summer. It has quite a nice beach, with a good selection of tavernas just across the main road. There are also quite a few cafes around the plateia near the beach.
There is a very old Turkish house in the centre of the village, which is reputedly the oldest on Lesvos. The area of Petra has been inhabited since ancient times, as can be seen from the tombs revealed on the Keramidaria site.
According to legend, Achilles anchored here in the immense bay on his way to the Trojan War. Put in simple terms, this is a village by the sea, built on a flat plain around a tall rock.... and so much more.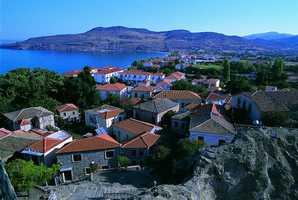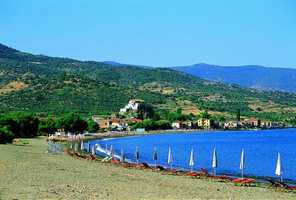 Although smaller than Molyvos, just 4km further North along the coastal road which connects them, Petra is similar in may ways with small streets of cobbled stone and hidden treasures.
Shopping is good with many small galleries and gift shops as well as a local Ouzo distillery and bars and restaurants. For the young at heart there are also a few nightclubs.
Accommodation in Petra
Places of Interest
Molyvos Village
Ouzo Distillery
Thermal Spring of Eftalou
Vareltzidaina Home
Return to Lesvos Introduction