Places to visit when you are in Petra
The Vareltzidaina Home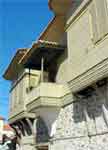 The 17th Century house of the Vareltzidaina family and has recently been renovated. We are waiting for a chance to visit and as soon as we have been able to do so, we will give you the inside story!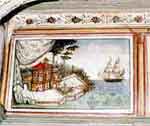 The house has engraved wooden balconies and the interior holds impressive murals and carvings.
(This section is being updated)
The Kouroumichali's Ouzo Distillery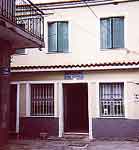 Just 20m from the home of the Vareltzidaina family, you will find a rather unobtrousive building which houses the Kouroumichalis ouzo distillery. This small distillery has been owned and run by the family since 1884. The founder, Basil Kouroumichalis, travelled to Istanbul in the early days of his life where he learned the secrets of Ouzo and Cognac making, working with famous teachers of this art. He returned to Petra, in 1884, where he founded the Kouroumichalis Distilleries.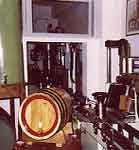 These traditions of Ouzo making have been carried forward to our days, initially by his son, Pantelis who died in 1989, and since then, by his granddaughter, Ourania Kouroumichalis who runs the business now with great success. You are more than welcome to visit this tiny example of distilling the most famous aperitif in Greece and of course you can buy some to take home.