Summer Ferry Schedules for the Greek Islands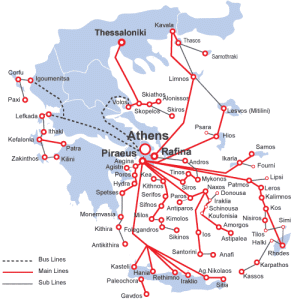 Vessels of every type, passenger ships, ferries, hydrofoils and catamaran craft cross the sea highways, in all the seas of Greece, able to carry 100,000 passengers and 20,000 private vehicles every day. These vessels are distributed in such a manner that they connect the Central harbours of Attica, Piraeus and Rafina with the islands, and every island to the other. In addition, other harbours of Attica and continental Greece are connected by ship with the islands.
Moreover, the remaining harbours of Attica and the other harbours of mainland Greece such as Patras, Kyllini, Thessaloniki, Igoumenitsa, Alexandroupolis, Kavala, Volos, etc. have a coastal connection to the island region.
Most domestic routes take place every day and throughout the year. Some depart in the afternoon for all-night travel, and some leave in the morning to return on the same day via the same or other ports.
All passenger ships, depending on the routes they do, have First and Economy classes, bar, restaurant and other services that vary depending on the type of vessel and the duration of the trip.
Our offices are connected with the on-line Ferry Ticketing system of FORTHcrs called Openseas™. Our agency is in co-operation with the shipping companies NEL Lines, Hellenic Seaways, ANEK Lines and Blue Star Ferries. Openseas™ provides us instantly with sea schedules & prices for the Greek port destinations of the previously mentioned shipping companies.
As main agents for NEL Lines, Hellenic Seaways, ANEK Lines and Blue Star Ferries we can book and issue ferry tickets from and to certain Greek Islands and send them to you by first class registered post at a small extra charge.
From the port of Mytilini (Lesvos Island) it is also possible to travel to Ayvalik (Turkey) as well as to other Greek island such as Chios and Limnos. For more information on ferry connections and day-trips to Ayvalik in Turkey please click here: Ayvalik - Turkey
Important message to all our travellers; The summer ferry schedules are usually released by the end of March. Due to the schedules and prices being subject to changes, we always advise to contact our office for the most current and correct information.
In order for us to advice you on ferry schedules and prices for Greek Islands we will need the names of all passengers traveling and details of any connecting flights or ferries which may be relevant to your journey. We kindly ask you to provide us with as much details of where and when you want to travel as well as the ages of any children that may be travelling with you.
You can send us an e-mail with all details of your proposed visit and we will respond directly to you with a ferry quotation.