Anaxos ... a small intimate and tranquil resort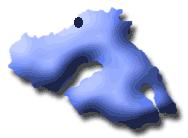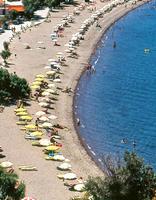 Anaxos is a seaside resort extending rapidly in an ample plain. In the Anaxos gulf a sandy beach is forming the beauty of the area and promotes the touristic development.
Anaxos provides an extensive amount of accommodation, and many other services. Hotel/studio/apartments are build rapidly here to cover any tourist's desire.
Anaxos is however still a small, intimate and tranquil resort that is best suited to holidaymakers wishing to stay in a tiny resort. Anaxos is famous for its ambience.
In the Anaxos you will find several typical Greek tavernas and bars. In addition one can also find offices for motorcycles.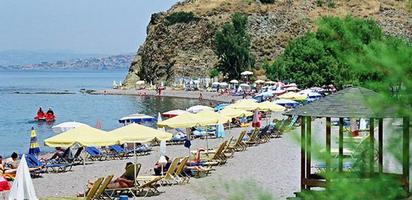 For a wider variety of shops, bars, and restaurants, the busy towns of Petra and Molyvos are within easy reach. It takes half an hour to walk to the end of the long sandy beach, or explore the surrounding area by car.

There is a yearly feast which takes place on July 27, celebrating Saint Pandelehimon.
Accommodation in Anaxos
Places of Interest
Return to Lesvos Introduction