The Byzantine Mosaics of Skala Eressos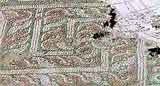 These wonderful mosaics are situated behind the church of St Andreas were re-excavated in the year 2000. A team of students from the Archeological Studies Institute assisted in the excavations and repair of the mosaics which have laid undisturbed beneath the surface of the original Byzantine Basilica.
The students worked in summer and the temperature sometimes rose to as much as 45 degrees. The canopies you can see in the distance above covered the areas of restoration and helped to protect both the mosaics and the workers from the burning sun.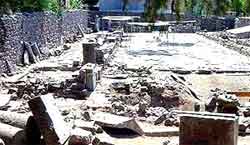 Unfortunately for all visitors of Skala Eressos and also the residents of the village, the local museum of Skala Eressos has been closed for the last three years and many artifacts found at this Ancient Site have been brought to Musea in Mytilini.