The Theophilos Gallery in Mytilini
In Varia, an affluent suburb of Mytilini, is the site of the Theophilos Museum with works by Greece's best-loved painter Theophilos.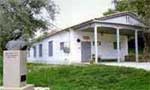 The museum was constructed in 1965 by the famous art critic Strati Eleftheriadi, known as Teriade who initiated the financing of the museum and donated it to the Municipality of Mytilini. The museum has five exhibition rooms which house 86 works of the popular painter.
Among Theophilos' finest works are "Limnios Kehagias", "the gulf of Yera" and "Trata" based on the traditional dance of the same name. The walls are also hung with lithographs from the Great Books by, amongst others Picasso, Matisse and Chagall.
The Museum can be contacted on 0030 - 22510 - 41644