The Teriade Collection in Mytilini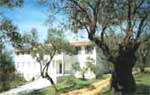 The Teriade Museum opened its doors to the public in August 1979.
Stratis Eleftheriades- Teriade (1889-1983) was an inspired publisher. From his cooperation with the leading artists of the 20th century, he amassed a collection which is known today as the Great Books.
For the first time in the history of art, painters such as Matisse, Picasso, Chagall, were given the opportunity not simply to illustrate books, but to create an artistic work through the medium of the book.



See the masterpieces of Great artists such as Chagall, Matisse & LeCorbusier
Also known as 'The Library of Modern Art' it was the wish of Teriade that his publishing works be displayed and made available to the public. Located in the grounds of the Theofilos museum and gallery visitors can see Teriade's collection of 'The Great Books' which contain original designs by some of the great painters of the century.
The Museum also exhibits works by: Baudin, Bornard, Bores, Chagall, Giacometti, Grimaire, Laurence, Le Corbusier, Leger, Matisse, Miro, Picasso, as well as by: Giorgos Vakirtzis, Theophilos Hadjimichail, Manolis Kalliyiannis, Orestis Kanellis, Callirhoe Marouda, Giorgos Rorris, Yiannis Tsarouchis.
You can contact the Museum on 0030 - 22510 - 23372