The Byzantine Museum in Mytilini
Located on Aghiou Therapontos here you will find a collection of Byzantine and Post-Byzantine icons and ecclesiastic relics.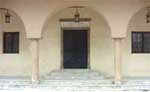 Hand painted Byzantine icons of Christ, St George and John the Divine grace the collection. Among other items displayed are sacerdotal vestments, sections of iconostases from old churches, many ecclesiastic vessels of great value, rare manuscripts and numerous Byzantine books.
A beautiful collection and well worth a visit.
The Museum can be contacted on 0030 - 22510 - 28916.