Panayia Glykofilousa (Virgin Mary of the Sweet Kiss) in Petra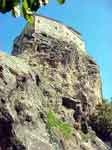 Atop this volcanic rupture is the church of the sweet kisses so called because a fisherman whilst fishing lost his sacred icon of the Virgin Mary which he carried with him at all times. While fishing out from the bay he saw a glint of 'sweet green light' shining from the top of the rock and was drawn to follow the light. When he eventually reached the top, he found his beloved icon and hence was moved to build the Church of the Sweet Kisses, one of the most famous churches on the island today.
The church was built in 1747 and restored in 1840. There are 114 stone steps up to the entrance of the church of the sweet kisses. Although not particularly aesthetically pleasing to the eye from the bottom of the rock, upon arriving at the top you are immediately treated to spectacular panoramic views of the surrounding village, countryside and of course the Aegean Sea.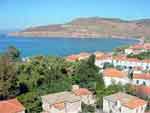 On first impressions the church appears to be a small monastery. Reaching the first upper terrace, you find yourself entering a courtyard of walled stone with the original church structure in the centre. The outer walkways offer a taste of the architecture used in the building and small barred windows show long forgotten fortification of this ideal lookout point.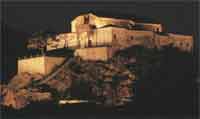 Within the church lies the silver icon of the Virgin Mary which is laden with individual prayer requests from the families and friends of those with ill health and physical afflictions. These small representations of parts of the body are manufactured from pressed metal and are purchased from icon shops throughout the island. The affected limb or part of the body is then placed on an icon considered to be of great importance and prayers are said for the afflicted in the hope that they will heal.
August 15th is the festival of the Panagia (Virgin Mary) and a great holiday for the village of Petra. The cobbled streets are lined with stalls, Greek flags and great atmosphere.