The Basilica of Aphentelli in Skala Eressos

In 1991, Gerald Schaus on his archaeological survey of the area of Eressos commented that the Christian basilicas at Aphentelli and those at Skala Eressos were destroyed and abandoned at the time the fort was built on top of Vigla Hill, the ancient acropolis of Eressos.
This 600-700 year period, no doubt one of upheaval and constant threats of piracy, is simply not in evidence, either from the 1991 survey results or indeed from other archaeological sources available at present. Church records, however, suggest that there was a bishop of Eressos during a good part of this period.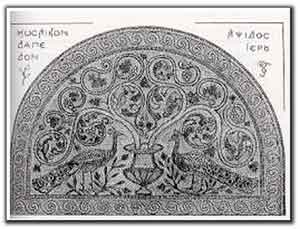 Impression of one of the mosaics of Aphentelli
History tells us that the basilica was a three-aisled church which was built during the mid - 5th century. It is believed that this is where the School of the doctor, philosopher and botanist Theophrastus excisted.
The mosaics that were found on the site include remarkable representations of peacocks which are in very good condition. The bases of the pillars and the capitals are of the Ionian style, while the famous "egkainio", an item of particular interest is kept at the archaeological museum. The "egkainio" is a small marble sarcophagus which contained the relics and sanctions of Saints.