The Secrets of Sigri
Looking out to Sea from the shores of Sigri you will see the small islands which protect the bay and here lies a fascinating wealth of culture and tradition seldom seen or known in the outside world.
Nissiopi Island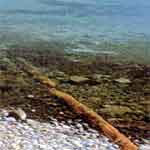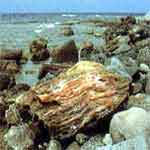 Petrified trees lie on the shore of the island
The larger of the two islands is Nissiopi, a barren low body of land which serves as a natural protection for the North side of the village and the small domestic harbour where early morning sees the arrival of fishing boats which dock to unload their fresh wares after a night on the open sea. The island is host to one of the few remaining manned lighthouses, and also to the most natural phenomenon of petrified stones. The fossilised trees lay undisturbed as they fell millions of years ago in the shallow waters surrounding the island. There is a small beach here where you can while away the hours, but do be warned, Nissiopi is without shade and rarely allows visitors. If you wish to see the stones, please ask first.
Where Seagulls go to Die
Sad, but apparently true... and fascinating, the smaller island which hides from view unless looking from the main beach towards the open sea is the place where Seagulls go to die. Nobody really knows why the birds choose this as their final resting place. Perhaps it is the isolation and openness to the seas they spend their lives flying over and feeding from, perhaps it is just a quiet place which remains mostly undisturbed by human or animal for not much could live on this barren land open to the elements.